AXJ REAL TIME NEWS 24/7/365 www.axj.com
Statistics
We have
13
registered users
The newest registered user is
blackberryadeel
Our users have posted a total of
43
messages in
42
subjects

Supreme Court upholds Obamacare 5-4
Supreme Court upholds Obamacare 5-4
By Bill Mears and Tom Cohen, CNN
updated 11:29 AM EDT, Thu June 28, 2012
Source :
http://www.cnn.com/2012/06/28/politics/supreme-court-health-ruling/index.html
Washington (CNN) -- The U.S. Supreme Court on Thursday upheld the controversial health care law championed by President Barack Obama in a landmark decision that will impact the November election and the lives of every American.
What the health care ruling means to you
In a 5-4 ruling, the high court decided the individual mandate requiring people to have health insurance is valid as a tax, even though it is impermissible under the Constitution's commerce clause.
"In this case, however, it is reasonable to construe what Congress has done as increasing taxes on those who have a certain amount of income, but choose to go without health insurance," Chief Justice John Roberts wrote in the majority opinion. "Such legislation is within Congress's power to tax."
The importance of the decision cannot be overstated: It will have an immediate and long-term impact on all Americans, both in how they get medicine and health care, and also in vast, yet-unknown areas of "commerce."
The most anticipated Supreme Court ruling in years allows the government to continue implementing the health care law, which doesn't take full effect until 2014.
Read the court ruling (.PDF)
Health care budget claims explained
CNN Explains: Health care reform
That means popular provisions that prohibit insurers from denying coverage for pre-existing conditions and allow parents to keep their children on family policies to the age of 26 will continue.
The opinion was a victory for Obama but also will serve as a rallying issue for Republicans calling for repeal of the Affordable Care Act .
Roberts joined the high court's liberal wing -- Justices Stephen Breyer, Ruth Bader Ginsburg, Sonia Sotomayor and Elena Kagan -- in upholding the law. Four conservative justices -- Samuel Alito, Antonin Scalia, Anthony Kennedy and Clarence Thomas -- dissented.
The polarizing law, dubbed "Obamacare" by many, is the signature legislation of Obama's time in office.
It helped spur the creation of the conservative tea party movement and will be a centerpiece of the presidential election campaign.
Roberts appeared to note the political divisions of the health care law, writing that "we do not consider whether the act embodies sound policies."
"That judgment is entrusted to the nation's elected leaders," the opinion said. "We ask only whether Congress has the power under the Constitution to enact the challenged provisions."
The narrow focus of the ruling on key issues such as the individual mandate -- limiting it to taxing powers rather than general commerce -- represented the court's effort to limit the government's authority.
"The framers created a federal government of limited powers and assigned to this court the duty of enforcing those limits," Roberts wrote. "The court does so today."
The real people behind health care reform
On the individual mandate, the opinion said that "the Affordable Care Act's requirement that certain individual's pay a financial penalty for not obtaining health insurance may reasonably be characterized as a tax."
"Because the Constitution permits such a tax, it is not our role to forbid it, or to pass upon its wisdom or fairness," Roberts wrote.
Both Obama and his presumptive Republican challenger, Mitt Romney, have been firing up supporters this week by staking out their positions.
Speaking to supporters in Atlanta on Tuesday, Obama defended his health care law as the way forward for the American people.
"They understand we don't need to refight this battle over health care," he said. "It's the right thing to do that we've got 3 million young people who are on their parent's health insurance plans that didn't have it before. It's the right thing to do to give seniors discounts on their prescription drugs. It's the right thing to do to give 30 million Americans health insurance that didn't have it before."
Romney told supporters in Virginia the same day: "If Obamacare is not deemed constitutional, then the first three and a half years of this president's term will have been wasted on something that has not helped the American people."
Romney, whose opposition to the law has been a rallying cry on the stump, continued: "If it is deemed to stand, then I'll tell you one thing. Then we'll have to have a president -- and I'm that one -- that's gonna get rid of Obamacare. We're gonna stop it on day one."
According to a poll released Tuesday, 37% of Americans said they would be pleased if the health care law were deemed unconstitutional by the Supreme Court.
Twenty-eight percent said they would be pleased if the Affordable Care Act were ruled constitutional, the NBC News/Wall Street Journal survey showed, compared with 35% who said they would be disappointed if the court came back with that outcome.
But nearly four in 10 Americans surveyed said they would have "mixed feelings" if the justices struck down the whole law. The survey of 1,000 adults was conducted June 20-24.
Previous surveys have indicated that some who oppose the law do so because they think it doesn't go far enough.
The Supreme Court heard three days of politically charged hearings in March on the law formally known as the Patient Protection and Affordable Care Act. The landmark but controversial measure was passed by congressional Democrats despite pitched Republican opposition.
The challenge focused primarily on the law's requirement that most Americans have health insurance or pay a fine.
Opinion: Aging boomers need health care law
Supporters of the plan argued the "individual mandate" is necessary for the system to work, while critics argued it is an unconstitutional intrusion on individual freedom.
Four federal appeals courts heard challenges to parts of the law before the Supreme Court ruling, and came up with three different results.
Courts in Cincinnati and Washington voted to uphold the law, while the appeals court in Atlanta struck down the individual mandate.
A fourth panel, in Richmond, Virginia, put its decision off until penalties for failing to have health insurance take effect in 2014.
The act passed Congress along strictly partisan lines in March 2010, after a lengthy and heated debate marked by intense opposition from the health insurance industry and conservative groups.
When Obama signed the legislation later that month, he called it historic and said it marked a "new season in America."
While it was not the comprehensive national health care system liberals initially sought, supporters said the law would reduce health care costs, expand coverage and protect consumers.
In place of creating a national health system, the law bans insurance companies from denying coverage to people with pre-existing conditions, bars insurers from setting a dollar limit on health coverage payouts, and requires them to cover preventative care at no additional cost to consumers.
It also requires individuals to have health insurance, either through their employers or a state-sponsored exchange, or face a fine beginning in 2014. There are, however, a number of exemptions. For instance, the penalty will be waived for people with very low incomes who are members of certain religious groups, or who face insurance premiums that would exceed 8% of family income even after including employer contributions and federal subsidies.
Supporters argued the individual mandate is critical to the success of the legislation, because it expands the pool of people paying for insurance and ensures that healthy people do not opt out of having insurance until they need it.
Critics say the provision gives the government too much power over what they say should be a personal economic decision.
Timeline of the health care law
Twenty-six states, led by Florida, went to court to say individuals cannot be forced to have insurance, a "product" they may neither want nor need. And they argued that if that provision is unconstitutional, the entire law must go.
The Justice Department countered that since every American will need medical care at some point in their lives, individuals do not "choose" whether to participate in the health care market.
The partisan debate around such a sweeping piece of legislation has encompassed almost every traditional hot-button topic: abortion and contraception funding, state and individual rights, federal deficits, end-of-life care, and the overall economy.
During arguments on March 27, Justice Anthony Kennedy said the law appeared to "change the relationship between the government and the individual in a profound way."
Roberts argued that "all bets are off" when it comes to federal government authority if Congress was found to have the authority to regulate health care in the name of commerce.
Liberal justices, however, argued people who don't pay into the health system by purchasing insurance make care more expensive for everyone. "It is not your free choice" to stay out of the market for life, Justice Ruth Bader Ginsburg said during arguments.
"I think the justices probably came into the argument with their minds made up. They had hundreds of briefs and months to study them," said Thomas Goldstein, publisher of SCOTUSblog.com and a prominent Washington attorney, though he conceded that "the oral arguments (in March) might have changed their minds around the margin."
Basics: Health care reform issues
The legislation signed by Obama stretched to 2,700 pages, nine major sections and some 450 provisions.
The first lawsuits challenging the health care overhaul began just hours after the president signed the measure.
The Supreme Court has struck down the individual mandate for health care.
According to CNN, OBAMACARE has been ruled to be unconstitutional because Governments can not obligate anyone to do anything. Read the news:
Source:
http://www.cnn.com/2012/06/28/politics/supreme-court-health-ruling/index.html
OBAMACARE AND THE US SUPREME COURT IN QUESTION?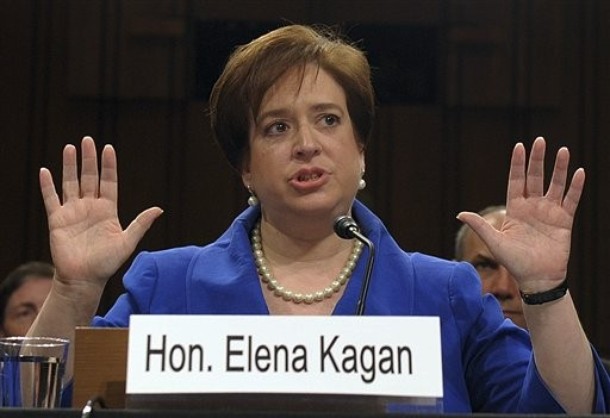 Cloud looms over Obamacare decision
by Bob Unruh
Watchdog group says without 'full disclosure,' Americans will question ruling
A huge cloud looms over the coming U.S. Supreme Court decision on Barack Obama's health-care law, dubbed Obamacare, that could undermine any portions of the law that are upheld, according to a key Washington watchdog organization.
The issue, which has been raised several times by Judicial Watch, is that Elena Kagan served in the Obama administration when the law advanced through Congress and now is on the Supreme Court bench sitting in judgment of it.
"Justice Kagan should provide the American people a full explanation about her refusal to recuse herself in light of the new information about her potential involvement with Obamacare when she served as solicitor general," Tom Fitton, president of Judicial Watch, told WND.
"And the Department of Justice's stonewall of our information requests shows that [Attorney General] Eric Holder is, once again, in full cover up mode," he said today.
Judicial Watch confirmed it still is waiting for an answer from Kagan and the DOJ to questions about her involvement in and support for the law during its construction phase.
"It is a real scandal that she and DOJ refuse to provide more information," the organization reported.
Email exchanges previously made public reveal that during Kagan's time as solicitor general, her office helped develop a strategy to defend Obamacare legally.
Ordinary judicial ethics would mandate that if she participated in such discussions, she should not later sit in judgment of the law, Judicial Watch has argued.
Judicial Watch noted that records that have been released "included an email showing what appeared to be then-Solicitor General Kagan's excitement and support for the passage of PPACA," the Patient Protection and Affordable Care Act.
Fitton several months ago wrote in a letter to Kagan challenging her participation in the case:
"The failure of the Justice Department to produce requested records in a timely manner, the dribbling out of requested records over time, the redaction and withholding of other records, and the refusal to respond to requests for records and information from several members of Congress have contributed to the substantial impression that additional details about your tenure as Solicitor General and the enactment and subsequent legal defense of the PPACA are being withheld from the American people.
"Judicial Watch is not calling on you to recuse yourself from the PPACA litigation at this time, just as Judicial Watch did not call on Justice Scalia to recuse himself from the litigation involving the National Energy Policy Development Group ('NEPDG') – to which Judicial Watch was a party – in 2004. When a controversy arose during the course of the NEPDG litigation over whether Justice Scalia should recuse himself from that matter, Justice Scalia issued an opinion stating: 'The decision whether a judge's impartiality can 'reasonably be questioned' is to be made in light of the facts as they existed, and not as they were surmised or reported.' Justice Scalia then provided a comprehensive recitation of the facts 'as they existed,' not as they were 'surmised or reported,' and an articulation of the reasoning behind his decision not to recuse himself.
"During your confirmation process, you wrote that you would 'consider carefully the recusal practices of current and past justices' as well as consult with your colleagues if questions about recusal in particular cases arose. Judicial Watch believes that it would be of substantial benefit to the court's consideration of the legal challenges to the PPACA if, like Justice Scalia in the NEPDG matter, you were to address the facts surrounding your tenure as Solicitor General and the enactment and subsequent legal defense of the PPACA as they 'existed,' not as they are being 'surmised or reported,' as well as provide an articulation of your reasoning behind any decision regarding recusal."
The White House, despite repeated inquiries, has declined to affirm that Kagan was excluded from Obamacare defense discussions during that time period.
Judicial Watch has been trying for a considerable time to obtain records that would explain Kagan's participation in the discussions. Those efforts include a Freedom of Information Act lawsuit against the Department of Justice for not releasing the information.
The group also sought access to calendars, schedules and phone logs for Kagan and others.
Another concerned group, Freedom Watch USA, led by attorney Larry Klayman, also has been trying to raise the issue of Kagan's possible bias.
Klayman requested twice that the Supreme Court address the issue of Kagan's expressed support for Obamacare but was rejected.
"The integrity of the court is even more important than the issue of the constitutionality of Obamacare," said Klayman. "Without a court that represents 'We the People,' Americans are left without any recourse to combat the tyranny of the other two branches of government. When the colonies saw that they had no recourse against the British crown, they declared their independence and waged a revolution to change their form of government and their rulers. Let us hope that this does not happen again, given the arrogance of establishment institutions like the Supreme Court, which seemingly think they are 'above the law.'"
Klayman has pointed out the importance of stopping even the appearance of untoward influence on the court.
Among the evidence that has been released is an email exchange from March 21, 2010, in which Kagan, then senior counselor for access to Justice Laurence Tribe, wrote: "I hear they have votes, Larry!! Simply amazing."
Tribe then responded, "So healthcare is basically done! Remarkable."
Additionally, on March 16, 2010, there was an email from Kagan to David Barron, asking if he had seen a Wall Street Journal article on the issue.
And Deputy Solicitor General Neal Katyal told Kagan in a 2009 email, "We just got [Olympia] Snowe on health care."
Klayman wrote at the time: "Without a neutral, unbiased Supreme Court, there simply is no rule of law and any decision concerning the act will be seen as illegitimate."
Fitton told WND that if Judicial Watch doesn't "get full disclosure from either Justice Kagan or the DOJ, Americans will have fair reason to question whether the Supreme Court impartially handled the Obamacare constitutional charges."
Source:
http://www.wnd.com/2012/06/cloud-looms-over-obamacare-decision/[b]
Admin




Posts

: 40


Join date

: 2008-11-22




---
Permissions in this forum:
You
cannot
reply to topics in this forum